English language qualifications
(English for speakers of other languages)
Trinity English language qualifications are recognised internationally as reliable evidence of proficiency in English. With a focus on developing communicative and interactive language skills, our exams assess and promote the skills needed for life in the 21st century.
A qualification for every learner
Trinity English language qualifications are suitable for people of all ages learning English as a foreign, second or additional language. Available at all levels, from beginner to advanced, our exams are available to individuals, schools and colleges in more than 60 countries worldwide.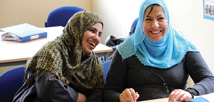 Tests speaking, listening, reading and writing.
Award and Certificate qualifications for adults learning English in the UK – 5 levels available from beginner to advanced (Entry 1 to Level 2).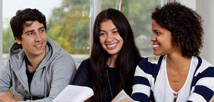 Trinity offers GESE and ISE SELTs at 10 SELT centres across the UK. Approved by UKVI for visa and immigration purposes, and by TFL for private hire drivers.
GESE SELTs available at A1, A2, B1. ISE SELTs available at B1, B2, C1.
One of the ways Trinity ensures the quality of its exams is to test trial them before their general release.
Benefits for participating schools, teachers and students include practice tests, an examiner report and feedback sessions.