What do TESOL and TEFL mean?
TESOL stands for 'Teaching English to Speakers of Other Languages'. Another similar term is TEFL, 'Teaching English as a Foreign Language'. TESOL and TEFL learning programmes are English language courses for students whose first language is not English.
TESOL or TEFL teacher training courses leading to TESOL or TEFL qualifications are for people who wish to become English language teachers. Many employers require their teachers to have internationally respected TESOL qualifications such as Trinity's CertTESOL in order to teach at their institutions. Read more about where a Trinity TESOL qualification can take you.
Support for English language teachers
Trinity's TESOL qualifications are widely accepted internationally by state and private sector teaching institutions including British Council-accredited organisations in the UK and around the world.
Our qualifications are designed to support teachers throughout their careers — from early practitioner to experienced professional. Read more about our range of qualifications on this website, and then find a course near you.
Support for TESOL training course providers
Trinity TESOL courses are available through over 150 Trinity validated course providers around the world. Trinity provides support for course providers to help them set up and deliver Trinity qualifications, together with training and resources for teachers and learning centres. Trinity also runs regular CPD workshops on different aspects of English language teaching and ESOL assessment literacy — visit trinitycollege.com/language-events to find out more.
Become a training course provider
Find out more about becoming a validated TESOL course provider for Trinity qualifications.
Download a Trinity TESOL overview leaflet
Download an overview factsheet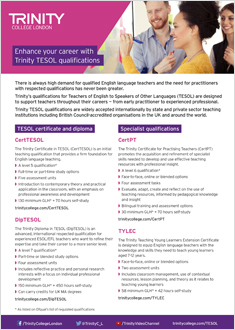 Trinity TESOL qualifications
TESOL Certificates and Diplomas:
CertTESOL
The Trinity Certificate in TESOL (CertTESOL) is an initial teaching qualification that provides a firm foundation for English language teaching. It is availableas a part-time, face-to-face, online, or blended course through a validated course provider. Find out more...
TYLEC
The Trinity Teaching Young Learners Extension Certificate (TYLEC) is designed to equip English language teachers with the knowledge and skills they need to teach young learners aged 7–12 years. Find out more...
Trinity Teach English Online
Trinity Teach English Online is a modular online self-study course that can lead to a Trinity Certificate in Online Teaching (CertOT). Find out more...
CertOT
The Trinity Certificate in Online Teaching (CertOT) is the assessment and qualification component of the Trinity Teach English Online course. Find out more...
CertPT
The Trinity Certificate for Practising Teachers (CertPT) promotes the acquisition and refinement of specialist skills needed to develop and use effective teaching resources with professional insight. Find out more..
DipTESOL
The Trinity Diploma in TESOL (DipTESOL) is an advanced, internationally respected qualification for experienced ESOL/EFL teachers who want to refine their expertise and take their career to a more senior level. Find out more...
Find a course
Visit our Find a course page to discover where you can take a course leading to a Trinity TESOL qualification.