Support for education agents
Students have a wide range of choice when it comes to international exams and the qualifications available for English language. As an education agent, we appreciate you need to keep abreast of those choices to advise the students you work with.
Trinity English language assessments are recognised and used by governments and institutions around the world. Examples range from the UK government's language requirements for visa applications, to the recognition and use of Trinity qualifications by local and national education authorities in Spain, Italy, China, India and elsewhere. Trinity's TESOL qualifications are also accepted by British Council language teaching centres in the UK and around the world.
To learn more about the range of Trinity qualifications, their international recognition, and where students can take Trinity exams, download our brochure for education agents.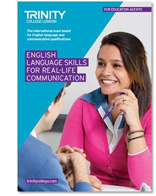 Find out more
To learn more and to register your interest email us.
Trinity Listed Education Agent Scheme
In 2019, we launched our Listed Education Agent scheme to support the work of agents worldwide. Central to the scheme, is a regular series of training webinars designed to provide the most up-to-date information about our English language awards and qualifications, and give agents an opportunity to interact with our staff and ask questions. The webinars are open to everyone and are run several times yearly.
Webinar details
The next webinar training session/s for Education Agents will be:
Once you have registered we will send you joining instructions.
Agents who attend one of our training webinars will be provided with a report of attendance and a digital logo for use in publicity (terms and conditions apply).