When considering scripts, either as a performance piece or stimulus for devising, it can be tricky to choose a text that captures and maintains the interest of the group for the duration of the project. To help with this, we have suggested some sources below for scripts which include suggestions for different ages, group sizes and preferences:
Trinity's online Anthology offers short text ideas, ideal as inspiration for solo or pairs performances
National Theatre's Connection plays are longer delivery suggestions written for larger casts
Nick Hern Books' Plays to Perform online catalogue is a great place to browse for plays suitable for all cast sizes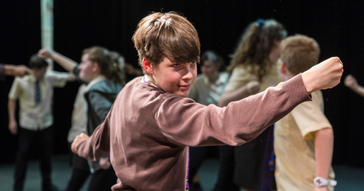 Trinity Anthology
Trinity Anthology is an online resource for teachers and candidates containing diverse, international material suitable for use in Trinity Drama examinations.
National Theatre's Connections plays
Each year the National Theatre commissions ten new plays for young people to perform, from the UK's most exciting writers. There is an application process each year for youth theatre groups who would like to perform these new works. Also the scripts for previous Connections Anthologies are available for schools to browse and purchase from the National Theatre's online shop. Or to take part in the National Theatre's Connections programme, applications can be made online here.
Nick Hern Books
The play finder on Nick Hern Books' Plays to Perform catalogue is a collection of over 1,000 plays, from ground-breaking new plays to popular classics and literary adaptations. The useful tool enables you to select scripts matching a variety of criteria such as age and gender of performers or size of group, as well as genre, theme or length. You can access the resource online here.


Introducing group assessment with Trinity drama
At Trinity, we believe that creating dramatic work in groups is a fundamental part of an actor's development. This is why the majority of our drama syllabus specifications have pair, group and In Production exams as options.
Developing collaborative communication skills fundamental to group performance work will help to prepare students for their wider lives, further education and employment.
Find out more in our free Guide to Group Assessments