Syllabus specification documents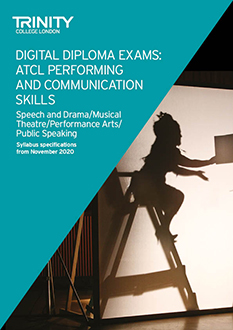 Download Digital Drama Diploma Exams syllabus specification
To understand the exam requirements, you will need to read:
There are further support and guidance materials on the website, including instructions on how to film, upload and submit.
What you need to do next
Select your performance pieces according to the relevant syllabus specification
Access your supporting task from the Supporting Tasks page (only applicable to ATCL Performing (Speech and Drama).
Access your reflection task questions from the Supporting Guide
Download and complete your submission information form
Take photos or scan your texts (pleasee see the guidance document)
And also:
Weekly Supporting Task – starting 23 November 2020
Drama exams require candidates to respond to a stimulus in the supporting task. Being able to respond creatively to a given stimulus is a critical skill in drama performance and the Digital Grades and Diplomas include this as a requirement. In a face-to-face drama exam this stimulus is provided by the examiner and candidates have a limited timeframe in which to perform their response in the exam.
For the Digital Grades and Diplomas, this stimulus will be provided on our website and refreshed on a weekly basis. Candidates will need to access the stimulus for their supporting tasks in the same week in which they are recording their exam. For example:
If a candidate intends to make their video recording on the 3 December, they will need to access that week's task which is posted on Monday 30 November and will be valid from 30 November – 6 December
We have created a sample set of tasks. These cannot be used for the exam, but have been created so that you know what to expect when the real ones are published.
Download a sample set of tasks now
It's important for candidates to ensure they are responding to the correct stimulus, so it's recommended that on the day of their recording they check the web page to ensure they are working with the correct materials.
The first stimulus will be posted on the website on the 23 November. Please check back here on this date to access the link to the web page.