Specifications and Centre Validation Requirements
The CertPT Specifications document contains the core information needed to prepare for the exams and for course centres to gain validation for their courses.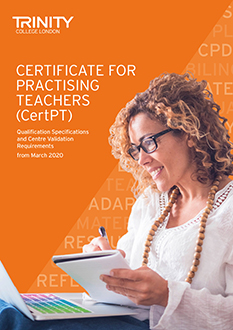 Assessment tasks and rating scales
Rating scales for each assessment task are contained within the Specifications. Alternatively download them for quick reference below:
Download the rating scales (English)
Download the rating scales (Spanish)
Download the rating scales (Mandarin Chinese)
Evidence-based teaching posters
To help teachers, Trinity has created a poster containing evidence-based learning activities, distilled from research by John Hattie and other evidence-based learning practitioners. This is a useful aid for teacher spaces and training rooms alike. These A3 posters are availalable to download below in English, Spanish and Mandarin Chinese.
Evidence-based teaching refers to teaching strategies that derive from, or are informed by, objective evidence such as educational research and performance metrics. Adopting evidence-based teaching strategies has shown noticeable 'effect' size improvements in students' performance. The bigger the effect size, the greater the improvements in performance. It can also refer to more qualitative research as well.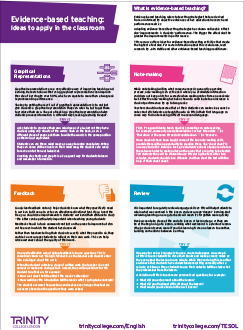 Download A3 poster (Mandarin Chinese)
Transformative Teachers training webinars
Part of our support for practising teachers includes regular training webinars on topics of interest to English language teachers. Sign up to participate here.