GESE Home exams
GESE Grades (1-4) can now be taken at home - these are booked as GESE Home exams.
Same exam, different delivery
Whether taken face-to-face, online or at home, the content and skills assessed for all GESE exams is the same. The results and certificates for online exams are issued in line with Trinity's existing processes for exams leading to fully regulated qualifications that adhere to rigorous standards.
To accommodate the use of the video conferencing, some aspects of delivery differ from in-person examiner assessments, and from centre-based online exams via Zoom.
For example, for home-based assessments the Trinity examiner also acts as an invigilator, and, for candidates aged under 18, an adult chaperone must remain present.
GESE Home guide for exam centres
Watch our guide for centres video about preparing to run GESE Home exam sessions:


Procedures for centres
Download the PDF procedures checklist for running GESE Home exam sessions.
Download the procedures for centres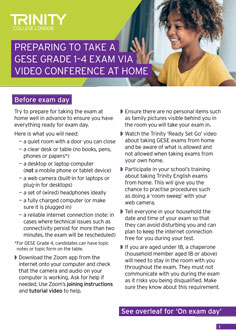 FAQs
Click here for frequently asked questions.
GESE Home guide for candidates
Our Ready, set go! video shows candidates how to prepare to take GESE Home exams:
Checklist for candidates and chaperones
Download the PDF checklist about how to get ready to take GESE Home exams.
Download the checklist for candidates and chaperones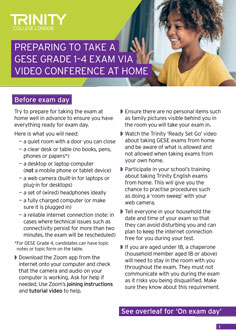 Practise using Zoom
Candidates should prepare for their exam and exam tasks in the usual way. They should also download and practise using Zoom with parents and friends before the exam, so that they feel familiar with waiting rooms and chat boxes and talking to people online via the app. Download the Zoom app.