Trinity's TESOL qualifications for English language teachers are listed on the UK Ofqual qualifications framework and, as such, are recognised in the UK and internationally. Global institutions like the British Council and many other state and independent sector teaching organisations also accept and run Trinity's highly respected teaching qualifications.
Credit transfer
Because of the qualifications' recognition status, credits can also be awarded towards undergraduate and postgraduate degree programmes offered by universities. The number of credits will vary depending on the qualification and the university, but the table below will give your university some of the necessary information they need in order to make a judgement about credit transfer. As a general rule, 10 Guided Learning Hours equate to 1 UK credit (0.5 ETCS) at the specified level.
TESOL qualifications suite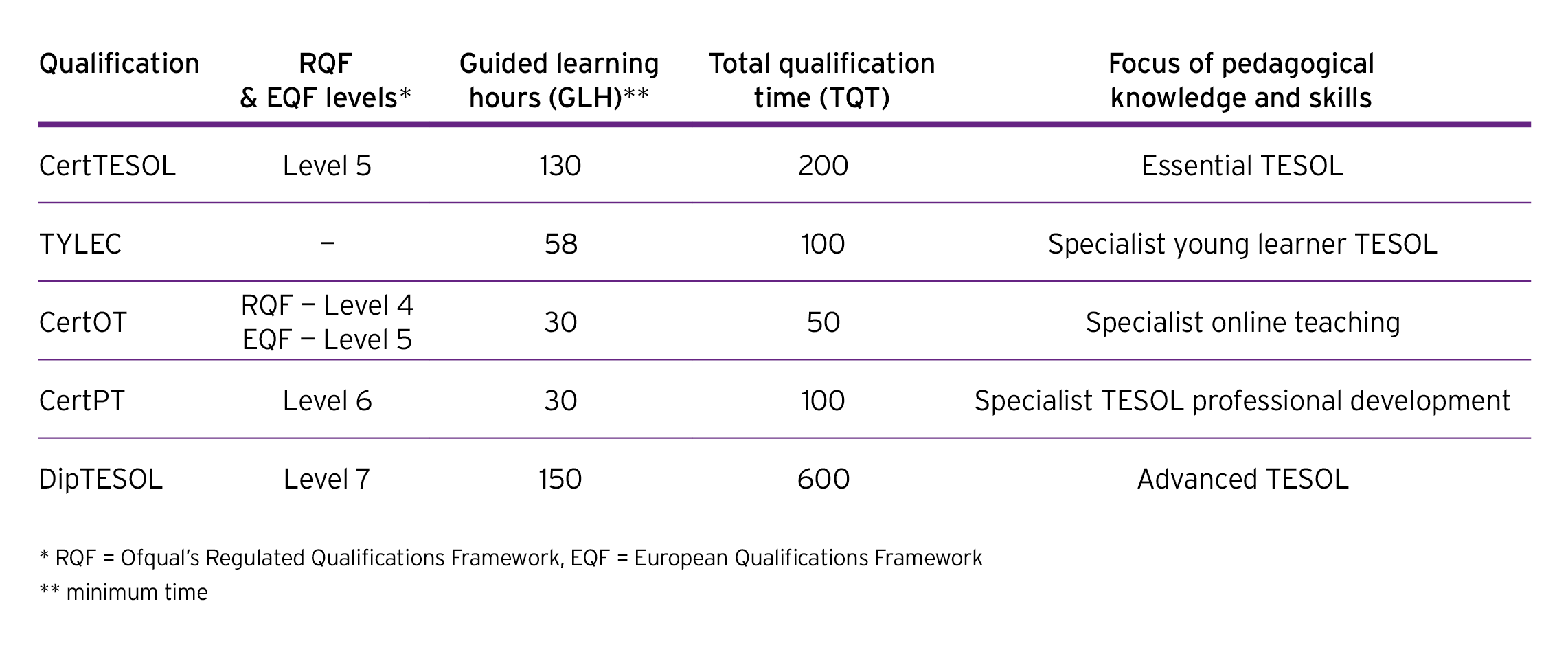 TESOL qualifications table (pdf)
Career progression
As well as providing both initial training and in-service development, Trinity's TESOL qualifications can help teachers' career progression by providing the higher-level knowledge and skills needed for professional advancement. More details can be found on our TESOL qualifications page.
As teaching can be highly regulated in some countries, we recommend that aspiring teachers check the entrance requirements for work in specific sectors in the relevant country before starting a training course. This will ensure that they are planning to take the right course for their professional pathway.
Professional memberships
In addition to being regulated by Ofqual, the UK's qualification ombudsman, Trinity is a member of professional language and teaching organisations worldwide, including:
International Association of Teachers of English as a Foreign Language (IATEFL)
European Association for Quality Language Services (EAQUALS)
European Associating for Language Testing and Assessment (EALTA)
The Association of Language Testers in Europe (ALTE)