Singing
Flexible graded exams encouraging singers to perform to their strengths

The music you want to sing
Learners can progress in their own musical style by choosing from specifically selected lists of over 1,000 songs by our singing experts.

The performer you want to be
Our performance-grounded technical work and supporting tests are specifically designed to develop learners' skills through the music they make.

The recognition you deserve
Candidates are assessed through an externally regulated and internationally recognised exam system, with a 140-year heritage that you can trust. They can gain UCAS points for Grades 6-8.

---
The Singing 2018-2021 syllabus
New 2018-2021 syllabus now available - valid from 1 January 2018 to 31 December 2021.

Refreshed repertoire of over 1,000 songs allows singers to perform in a range of styles and languages
Revised song groupings let singers specialise in their preferred musical styles with enough choice to ensure they become a versatile performer
Flexible performance options - including a choice of four supporting tests, the option to use backing tracks up to Grade 3, and no requirement to perform songs from memory - allow singers to demonstrate their individual strengths
Specially designed technical exercises allow singers to develop vocal technique through performance
New graded songbooks, with teaching notes, translations, audio pronunciation guides and recordings of the piano accompaniments, provide singers with exciting repertoire for every level
A new vocal exercises book, with the newly composed exercises, gives singers support for pitch and tone, rhythm, and diction

Get a taster of some of the songs and exercises from the 2018-2021 syllabus by downloading a free sample booklet. The booklet features free songs and exercises across a range of levels, styles and languages for you to explore.

Download your free sample booklet
Register your interest
Stay up to date with news about the new Singing syllabus, publications and professional development programmes, as well as giveaways and offers.


Register your interest
Enter for a Singing exam
There are two ways to book an exam:
Download an entry form here and send it with the full fee to your local representative, or


Book online using Trinity's new music booking service - this is currently available at selected UK centres only. The service permits booking and payment online, and the ability to choose a date at the point of booking.
Please note: you should read the syllabus requirements carefully before your exam. If you do not meet all the relevant requirements, the examiner may refer your exam result to Trinity's London office for review and marks may be deducted. Please see Information and Regulations and Syllabus infringements for more information.


Supporting Singing publications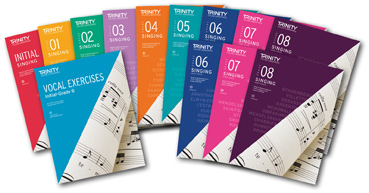 The following books supporting the syllabus will be available to buy in October:

Graded Singing repertoire books (Initial-Grade 8)
Available for Singing for the first time
Feature songs in a range of languages, from a range of international composers
Include informative teaching notes and translations of non-English texts
Accompanied by CDs with piano accompaniments and audio pronunciation guides by native speakers of the songs' languages

Vocal Exercises book (Initial-Grade 8)
Features three exercises per grade, six at Grades 6-8
Provides exercises for pitch and tone, rhythm, and diction
Includes full lyrics

Trinity also publishes the following series:
Visit our online shop
Syllabus support
Digital resources are available to support learning, including advice and content on:
Pieces, performance and technique
Supporting tests
Technical work
You can access:
Bite-sized videos to support the syllabus
Practice resources for learners
Tips for teachers


Visit our Music Resources site
Tido app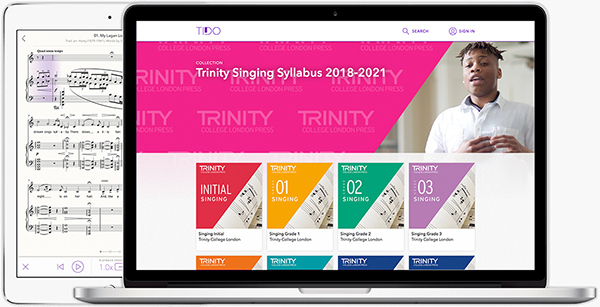 All of the songs from our 2018-2021 graded singing books can be accessed digitally on Tido's app for web and iPad. By subscribing to the app, singers can practise the songs they are working on for their Trinity singing exam in a digital, interactive and portable way. Find out more here.
Sign up for a 7-day free trial
Further information
Full details of entry procedures and exam regulations can be found in our Information & Regulations booklet.
Eisteddfod yr Urdd song option

From January 2018, young entrants competing in the Solo Song classes in Eisteddfod yr Urdd may offer their competition piece as one of the songs in their Trinity graded singing exam.

Click here for further details.

Darnau Gosod Eisteddfod yr Urdd

O Ionawr 2018, bydd cystadleuwyr yng nghystadlaethau Unawdau Eisteddfod yr Urdd yn gallu defnyddio darnau gosod yr Eisteddfod ar gyfer eu harholiadau canu unigol gyda Trinity College London.

Cliciwch yma am ragor o wybodaeth.
Trinity Talent Class of 2019
For more information see www.voicemag.uk/trinity-talent