Percussion
Our Percussion syllabus offers the choice and flexibility to allow candidates to play to their strengths, enabling them to gain recognition for their own unique skills as performers.

The new 2020-2023 Percussion syllabus will be launched in September 2019. There will be a one-year overlap (1 January – 31 December 2020) during which candidates can select pieces and technical work from either the old syllabus or the new syllabus, but not both.
Percussion syllabus 2017-2019
The 2017-2019 Percussion syllabus contains full details of grade exams in Drum Kit, Tuned Percussion, Snare Drum, Timpani and Orchestral Percussion.
You should read the syllabus requirements carefully before your exam. If you do not meet all the relevant requirements, the examiner may refer your exam result to Trinity's London office for review and marks may be deducted.
Please see Information and Regulations and Syllabus infringements for more information.
Syllabus support
A range of support resources are available on our Music Resources site.
Further information
Full details of entry procedures and exam regulations can be found in our Information & Regulations booklet
Supporting Percussion publications
A range of publications are available to support candidates with preparing for our percussion exams.
Drum Kit publications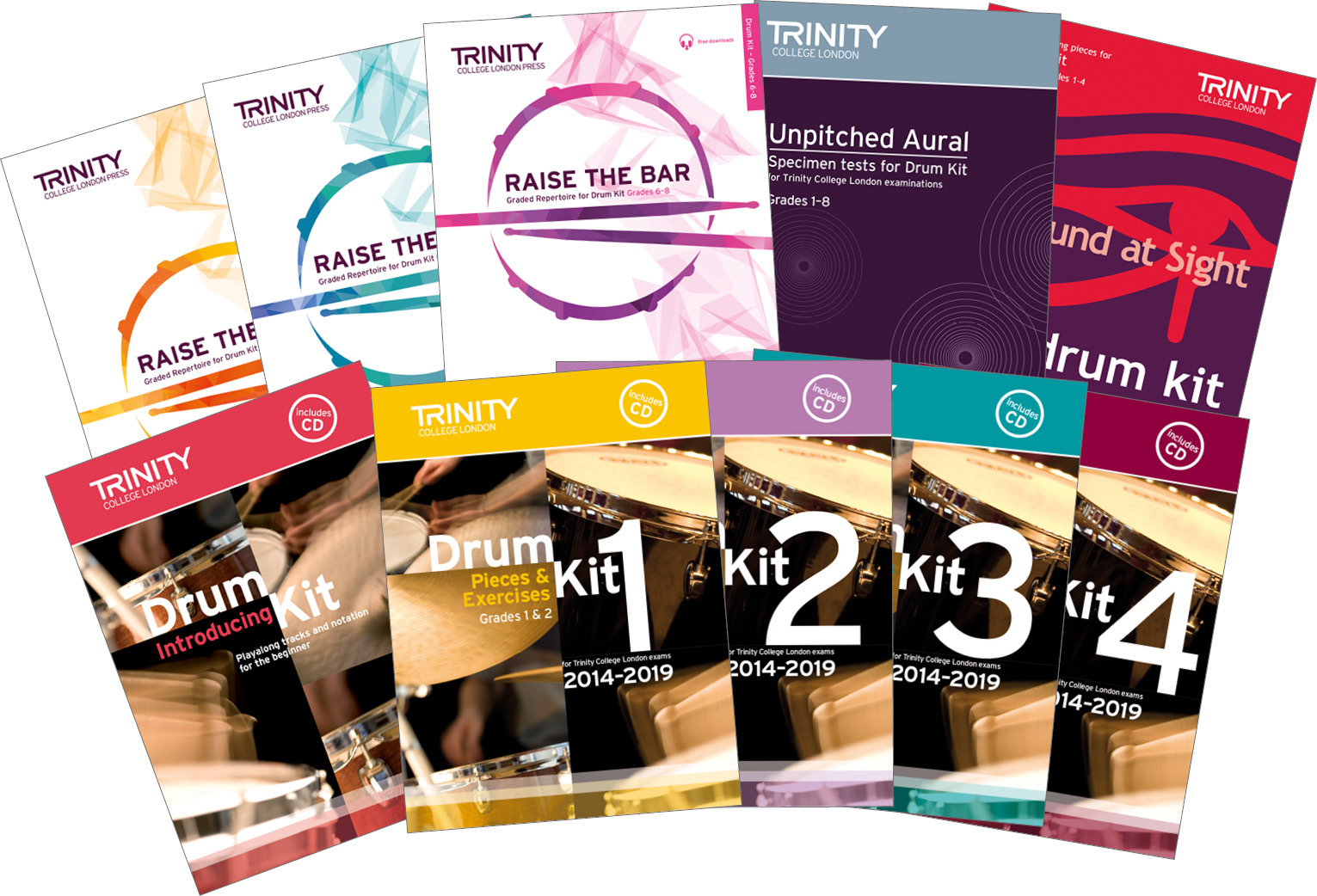 The following are available at your local music retailer or via our online shop:
Visit our online shop
Additional Drum Kit resources
Audio samples of the pieces in our Drum Kit Exam Pieces & Studies series are available to listen to:
Free downloadable guidance for Improvisation and Musical Knowledge can be found on our supporting tests page.


Unpitched Aural
An extra resource is available for teachers or candidates preparing for the Unpitched Aural Supporting Test: recordings of the piano part to Part 4 of the Playalong test are available and can be used in conjunction with our Unpitched Aural book, You can also download MP3s of the tracks.


Enter for an exam
To enter for an exam, download an entry form and send it with the full fee to your local representative. Find out more and enter for an exam
Register your interest
To be kept up to date with news about our syllabuses, publications and professional development programmes, as well as competitions and offers, register your interest.
Looking for support with your music teaching and learning?