SILKE BLANSJAAR TALKS TO US ABOUT PLAYING AN ACOUSTIC KIT
Silke Blansjaar is a multi-instrumentalist, session musician and audio engineer based in Oxford, UK.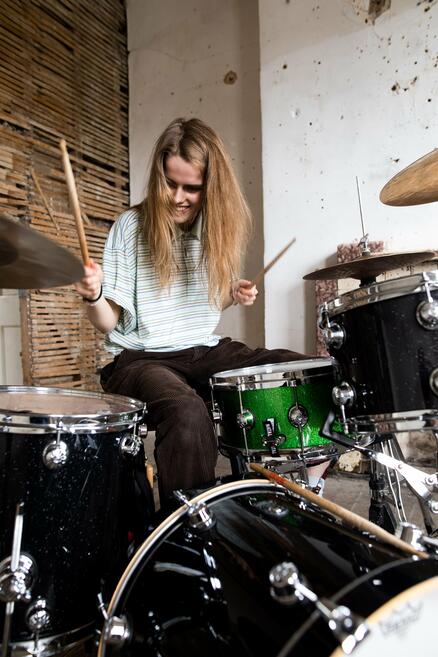 When it comes to performing, she has over 13 years of practical experience as a drummer and percussionist, and in more recent years has started gigging on bass, guitar and synth. She has experience both on stage and in the studio, in a variety of genres, including punk, pop, samba, rock, emo and jazz. She was a finalist in the Amsterdam Music School Awards at age 6, and took part in her first studio recording session at age 9, playing caixa with Latin American percussion band Sol Samba. ​
Currently a full-time member of bands Self Help and Candy Says, career highlights so far include playing at Truck Festival, Common People, Cornbury Festival and Notting Hill Carnival, as well as supporting the likes of Goat Girl, Willie J Healey, Fang Club, GIRLI, The Coathangers, itoldyouiwouldeatyou, Whenyoung and rock n roll legends The Pretty Things.
In the summer of 2018 she traveled to Grenoble, France to take part in their 'Divercities' project, and play with musicians from all over the world. She performed on Nightshift Magazine's number 1 and number 3 tracks of the year 2018.