You must pass a Secure English Language Test (SELT) in at least CEFR level B1 in Speaking and Listening for:
Indefinite Leave to Remain (to settle)

or

British Citizenship
Trinity's GESE Grade 5 exam = CEFR B1.
GESE Grade 5
10 minute speaking and listening test
Provisional results on the same day
Certificate usually sent within 7 days
Speaking & Listening only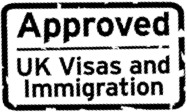 Prepare for your test
The exam is 10 minutes long. There are two parts:
Topic:

You choose a topic to prepare in advance of the test, for discussion with the examiner.

You must complete a

Topic Form

in advance and bring it with you to the exam.

Conversation: You have a short conversation with the examiner about two subject areas chosen by the examiner.
You also need to take a 'Life in the UK' Test as part of your application. This is not a Trinity test. Visit the government Home Office website for more information about the Life In The UK test.
Visit Prepare for your test below to find candidate guidance and preparation activities to help you understand and practise for your exam.
Prepare for your test Find a preparation course Special needs requests
Take with you to the test
You must take proof of identity (ID) to the SELT test centre. Please read Trinity's SELT Centre Candidate ID policy.
Remember to download and complete a Topic Form to take to the exam for discussion with the examiner.
Further information
What do CEFR, SELT and GESE mean?
CEFR = Common European Framework of Reference for Languages
SELT = Secure English Language Test
GESE = Graded Examinations in Spoken English