Exploring the Violin repertoire: Initial—Grade 5
Celia Cobb introduces highlights from the new violin syllabus from Initial to Grade 5, picking out new discoveries, from duet options to lively character pieces.
Every string teacher I know loves poring over a newly released string syllabus. Perhaps we should all get out more, but there's something so exciting about flicking (or scrolling) through the pages to discover what's on the menu this time around. The most satisfying syllabuses for teachers are those which manage to combine a core selection of familiar pieces with plenty of new and interesting surprises, and the new Trinity syllabus for 2020 does exactly that. Old favourites reappear reassuringly throughout the Initial to Grade 5 syllabus – there is plenty from Cathy & David Blackwell's Fiddle Time and solo repertoire books and Katherine & Hugh Colledge's Easy String Music series, as well as other expert educators such as Mary Cohen, Shelia Nelson and Edward Huws-Jones. There is also a wide range of less familiar and newly published material on offer, and while every instrumental teacher I know would say that they don't teach solely to a syllabus, there is no denying that a syllabus, especially one with its own series of grade books, does provide a very handy body of teaching material to get stuck into.
A big innovation for the 2020 syllabus is the introduction of pieces for Initial to Grade 3 which can be played as duets with a teacher (or another student) in the exam. Although Trinity candidates already have the option of playing with a backing track in their exam in the lower grades, the duet option is a real boon for those string teachers who may not be confident pianists but whose younger pupils would really benefit from the security of having their teacher in the room with them as they play their pieces. Each graded book also has at least one unaccompanied option, and there are more in the alternative lists.
A further change from previous years is that the Initial to Grade 5 pieces are no longer grouped in 'A' or 'B' categories, allowing teachers and candidates greater freedom and flexibility to put together an exam programme.
Some highlights from Initial to Grade 5
Initial
As well as favourites such as Knickerbocker Glory (Waggon Wheels), Happy Go Lucky (Fiddle Time Joggers) and the ubiquitous Sword Dance by Arbeau, the Initial violin book contains some rousing new numbers: On Parade by Jeffery Wilson, and Swinging Along, a lively unaccompanied option with catchy syncopated phrase endings by Anna Dryer-Beers.
On the alternative list are pieces from Trinity's Take Your Bow series as well as from familiar volumes including Trinity's Raise the Bar. Of special interest is Aquila from Constellations Set I by Garry Wilkinson (part of Trinity's new Performers Series), a lovely 'mood' piece which uses mainly open strings but requires good legato bow control and command of dynamics.
Aquila by Garry Wilkinson

Grade 1
There are plenty of brand new pieces to explore at Grade 1. In the Grade 1 book we are offered an unaccompanied piece, Jeremiah's Waltz by Anna Dryer-Beers, a tenderly jazzy piece, Lights Out, by Jeffery Wilson and a gently flowing arrangement of the Chinese folk tune Jasmine Flower by Celia Cobb and Naomi Yandell.
Busy Bee from Take your Bow also features on the alternative list, together with Bird and a Dog, a fun and intriguing short character piece from Trinity's new publication of music by L Subramaniam, Pieces, Studies, Ragas. Performance notes for this piece are available online.
Bird and a Dog by L Subramaniam

Grade 2
At Grade 2 there is the opportunity for some serious grooving. Children who are familiar with the Bach/Petzold Anna Magdalena notebooks will be delighted by the inclusion of Mike Cornick's Menuet, which is almost too cool to be true, and new works by Christopher Norton (In the Quiet House), Jeffery Wilson (At Work) and Gabriel Koeppen (Swingin' Strings).
Menuet by Petzold (from Clavierbüchlein der Anna Magdalena Bach, BWV Anh. 114), arr. Mike Cornick

There are also some great folk and folk-inspired options, including Ros Stephen's foot-tapping Dublin Time, and an unaccompanied Welsh tune, Coleg y Brifysgol Abertawe. Traditionalists will be relieved to see Air by Gottfried Finger (1660-1730) in the Grade 2 book as well as Chorus from Judas Maccabeus by Handel and a Rondo from one of the Pleyel Duos as a duet option on the alternative list.
Grade 3
By Grade 3 level, many students are yearning to add music by well-known composers to their repertoire, and they will particularly welcome the inclusion of the Bach, Mozart and Schubert pieces in the syllabus. There are also new discoveries to be made, such as Cecilia McDowall's jaunty Sunday on Fifth Avenue and a showy calypso, Maracas Beach by Adam Saunders, as well as a romping character piece — Donkey Doodle, by William Kroll. Of note on the alternative list are three pieces from Trinity's newly published book Twelve Pieces by Barbara Arens, including Fat Cat Boogie which is likely to be a hit with pupils.
Donkey Doodle by William Kroll

Fat Cat Boogie by Barbara Arens

Grade 4
The Grade 4 list offers a real opportunity for students to show off, in the best possible way of course. In the Grade 4 book, Vivaldi's Gavotta from Sonata in A op. 5 has plenty of semiquavers and string crossings, as does an Allegro by Michel Corrette, and the inclusion of the famous Badinerie from Bach's Orchestral Suite no. 2 on the alternative list is bound to be a popular choice. At the other end of the scale, there are a good number of pieces to suit those students who are working on developing their expressive playing. Amy Beach's La captive is included (without the original sul G instruction, teachers will be relieved to note) as is a charming arrangement of the English folksong The Crystal Spring by Kathy and David Blackwell.
La captive by Amy Beach

For students looking for rhythmic challenges, there is another Mike Cornick number, a glorious arrangement of a Corelli Sarabanda which starts off all casual and suddenly erupts into a quasi-improvised Grapelli-esque rhapsody. Old favourites El Choclo (Tailor), Take Five (Desmond) and Rondino (Hadjiev) also appear.
Grade 5
There are further opportunities for students to dazzle in the Grade 5 list. Those with a soft relaxed bow arm will have the necessary bow control to give good accounts of Allegro from Corelli's Sonata no. 3 in C, and Böhm's Perpetuum mobile. Fauré's Berceuse and an expressive, jazzy arrangement of Somewhere Over the Rainbow by Nicky Iles will allow students to show off their vibrato and rich tone.
Somewhere Over the Rainbow, arr. Iles

And both Edward Huws Jones's exciting arrangement of Abreu's Tico-tico no fuba and Scottish Fantasy by William Mackenzie Murdoch call for nifty finger work as well as attention to detail in the right hand.
Throughout the grades, there is a wide range of pieces in different styles and moods, which will allow candidates to find music to appeal to their strengths and preferences as well as offering a balanced exam programme. It's always hard to create something to please everyone (especially us picky violin teachers) but the breadth of music on offer might just mean that this syllabus comes pretty close.
About the Author — Celia Cobb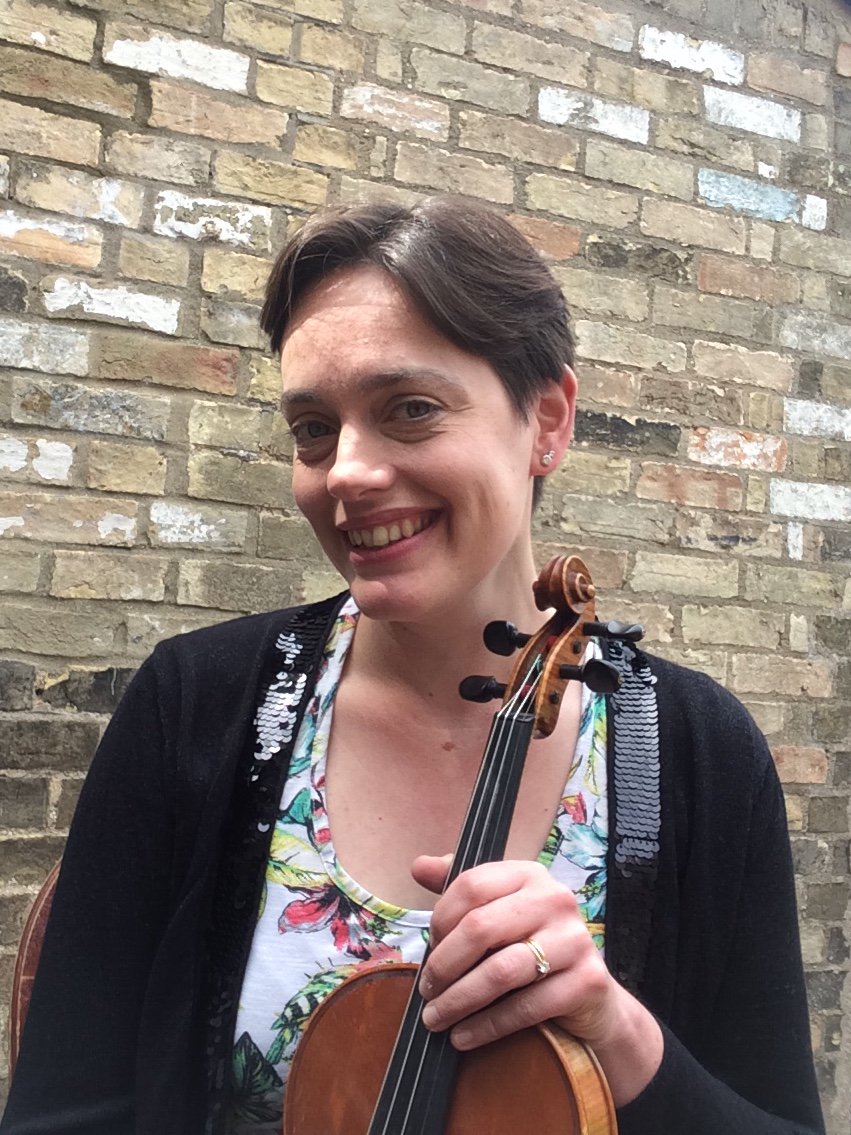 Celia Cobb studied at the Royal College of Music and at Cambridge University. She teaches violin and viola, and is the director of Stringmoves, a string teaching scheme in Cambridge. She has a special interest in beginner string pedagogy, and together with Naomi Yandell, she is co-author of the Take your Bow series, a set of concert pieces for young players of violin, viola, cello and double bass, published by Trinity College London Press. Celia and Naomi have also written a series of practical theory books — First and Further String Note Books — which enable young beginner string players to use the first notes that they play as a basis for developing an understanding of basic music theory and note-reading.