Trinity Strings Syllabus 2020–2023 — Viola repertoire Initial–Grade 8
The new viola syllabus for 2020 sees a refresh of its works, retaining popular pieces from the previous syllabus whilst adding new and exciting material. All the books listed here are available through the Trinity College London Shop.
What's new:
Duets (Initial — Grade 3)
As with the new violin, cello and double bass repertoire lists, a number of duet pieces for Initial to Grade 3 have been added. Of particular interest is Nyth y Gwcw from Edward Huws Jones's Fiddler Playalong Viola Collection, at Grade 1, where the teacher (or another student) plays the folk tune and the candidate takes the 'easy viola' line. Red-Haired Boy from the same book is also a duet option at Grade 2, as are The Silver Leaves of the Poplar Tree and The Four Corners of my Handkerchief at Grade 3.
Furthermore, some existing pieces on the syllabus now give the candidates the choice of either playing with an accompanist (or backing track) or as a duet. These include Kathy and David Blackwell's Viola Time series (Initial: City Lights, Rhythm Fever, Rowing Boat; Grade 1: Handel, Finale from The Water Music; Grade 3: Bizet, Habanera).
Solo Pieces
Each grade has at least one unaccompanied option, and studies now feature on the lists from Grade 2, in both duet and unaccompanied versions. Studies by Mazas and Campagnoli from Emil Kreuz's study volumes are included as duets at Grade 2, and unaccompanied pieces by Dancla are listed in Grades 2, 3 and 4. Later on, more advanced Mazas studies are also unaccompanied options at Grade 6, 7 and 8.
New repertoire and female composers
In the 2020 syllabus, teachers can find brand new repertoire to explore at every grade. Both Initial and Grade 1 feature pieces from Trinity's Take Your Bow series. The five pieces chosen are also on the equivalent grade lists in compatible keys for violin, cello and bass, which will be welcomed by those who teach in groups of young beginners. Another relatively new publication to appear is Anne Terzibaschitsch's Violaträume (Viola Dreams), and pieces from the recently published Solo Time for Viola books by Kathy and David Blackwell are included at Grades 3 and 4.
It is heartening to note that female composers are more visible in the higher grades than in previous syllabuses; works by Rebecca Clarke already on the syllabus from Grade 5 through to Grade 8 are now joined by a variety of pieces by other female composers. Avelette from Four Love Songs by the Canadian composer Alma Clarke and arranged by Sue Otty is on the Grade 4 list. At Grade 6, Patsy Gritton's catchy pieces Presto for Frankie and Jazz-Dance are newly included. All three of Luise Le Beau's 3 pieces for viola op. 26 feature — Träumerei at Grade 6, Nachtstück at Grade 7, and Polonaise at Grade 8. Grade 8 also includes a new work by Augusta Read Thomas published in 2016, and a plethora of interesting unaccompanied options – movements from Elizabeth Maconchy's Five Sketches for Viola, Rainbow Bridge to Paradise by Augusta Read Thomas, and movements from Fifteen Characteristic Studies for Viola by Lilian Fuchs.
Familiar favourites
New to the syllabus is the Barbara Barber Solos for Young Violists series which have been a staple part of many teachers' libraries for quite some years and which now appear in every grade from Grade 4 onwards. Selections include pieces by Vaughan Williams, Haydn, Hans Sitt and Rebecca Clarke to name a few.
The Suzuki books from volume 3 upwards also feature from Grade 5, including repertoire stalwarts such as Dvorak's Humoresque (Grade 5), Böhm's Moto Perpetuo and the finale of Telemann's Viola Concerto (both Grade 6). Other top picks appear, notably arrangements from Polly Waterfield and Louise Beach's gorgeous book, O Shenandoah! at Grades 2 and 3. Strong Iguanodon from Caroline Lumsden and Pam Wedgwood's ever-popular book Jurassic Blue is added to the Initial list, which seems only fair given how much fun the Initial grade violins have been having with it over the last few years.
Talking of pinching things from the violins, the last movement from another favourite, Küchler's Concertino in D for violin, appears in alto clef at Grade 3 (in G major, of course), and the Scherzo from Dvořak's violin Sonatina op. 100 is now on the Grade 4 viola list. In addition, an adaptation for viola of Frank Bridge's Cradle Song joins his Berceuse on the Grade 5 list. Viola players can now enjoy Elgar's Chanson de nuit at Grade 6 and everyone (apart from possibly the accompanying pianist) will be pleased to see that the final movement of the Franck Sonata remains on the list for Grade 8.
Not every new addition to the list has been appropriated from the violins though, and there is plenty of original music for viola by Hummel in Grades 4 to 6, as are two movements from Kiel's 3 Romances for viola at Grade 7. Also of interest is the inclusion in Grades 6 and 7 of the arrangements for viola and piano by Eberhard Werdin of Max Reger's organ trios, op. 47. Movements from two of Bach's viola da gamba suites are added to the list at Grade 7, and the first movement of Hoffmeister's B flat concerto now appears at Grade 8.
Overlap books
As something of a 'minority' instrument, the viola does not (currently) benefit from having its own set of exam grade books, and so parents and teachers alike will be pleased to see an increased number of 'overlap' books, which include pieces from more than one grade. Trinity's Take your Bow includes music from Initial and Grade 1, and in the same grade categories there are unaccompanied options from Mary Cohen's Bags of American Folk and the Sassmannshaus Viola Recital Album vol. 1, which also includes pieces which can optionally be played as duets. Seven Easy Pieces by Mansel Thomas, includes Simon's Song at Grade 1 and Matthew's March at Grade 2, and numbers from Dancla's useful 36 Melodious and Easy Studies appear in Grades 2, 3 and 4.
Violaträume by Anne Terzibaschitsch contains pieces included in every grade from Initial to Grade 3, including a charming cuckoo song Der Kuckuck (Initial), an attractive Sicilienne (Grade 2) and an effective arrangement of Ilynsky's Berceuse op. 13 (Grade 3). Also spanning four grades is Edward Huws Jones's Fiddler Playalong Viola Collection with Nyth y Gwcw at Grade 1, Red-Haired Boy at Grade 2, two Hungarian tunes at Grade 3, and Makin' Whoopee and La Cumparsita at Grade 4. In the higher grades, Lionel Tertis's book The Early Years contains arrangements by Tertis as well as his moving original work Sunset (Grade 6). Luise Le Beau's 3 Pieces for Viola covers Grades 6–8, as does the Mazas study book Etudes spéciales.
As with the new violin syllabus, the Initial – Grade 5 pieces are no longer grouped in 'A' or 'B' categories, allowing teachers and candidates greater freedom and flexibility when putting together a programme. Although the amount of repertoire available to viola players, even in arrangement, seems small in comparison with say, violinists or pianists, the new syllabus offers a broad and satisfying palette from which viola teachers and their pupils can prepare their exam repertoire.
Watch Zami Jalil perform a selection of pieces from the viola syllabus:
Listen to a selection of repertoire from the viola syllabus in our Spotify playlist:
About the author — Celia Cobb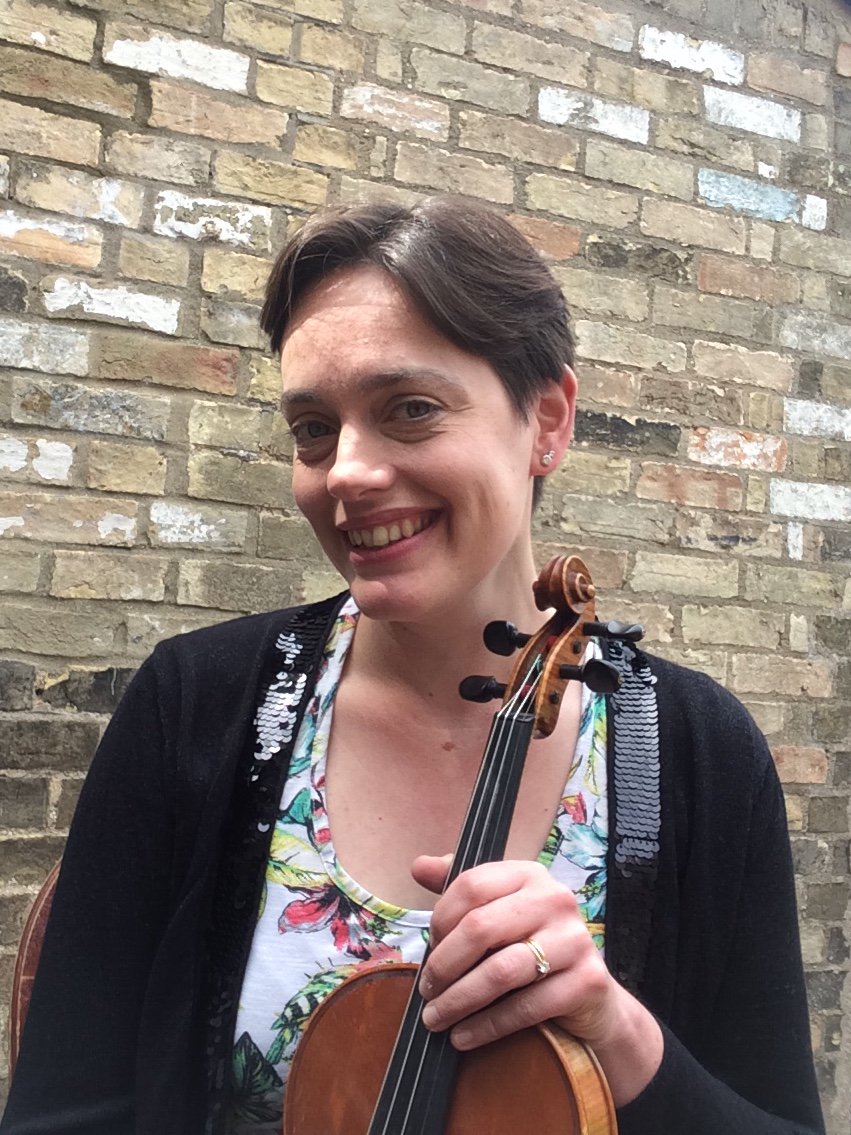 Celia Cobb studied at the Royal College of Music and at Cambridge University. She teaches violin and viola, and is the director of Stringmoves, a string teaching scheme in Cambridge. She has a special interest in beginner string pedagogy, and together with Naomi Yandell, she is co-author of the Take your Bow series, a set of concert pieces for young players of violin, viola, cello and double bass, published by Trinity College London Press. Celia and Naomi have also written a series of practical theory books — First and Further String Note Books — which enable young beginner string players to use the first notes that they play as a basis for developing an understanding of basic music theory and note-reading.