A guide for performing arts academies
Arts subjects remain under pressure in many primary and secondary schools, and opportunities to experience the arts within a school context remain scarce for a lot of students. Consequently, the number of GCSE music and drama students fell by a fifth over the last decade, and funding for arts and culture programmes in schools has dropped to just £9.40 per pupil in the last year. This means the role of performing arts academies is more important than ever for nurturing young talent.
With a view to supporting performing arts colleges in this important role, we have spoken to principals from several schools to gather their expertise on how to retain students long term. They divulged some of their tried and tested approaches and have provided advice for performing arts academies and drama schools to help keep student numbers high for all the right reasons.
STUDENT MOTIVATION
Why is a student retention strategy important?
Nurturing young talent takes time, so the longer your students stay with you, the more likely they will be to reach their full potential. Encouraging students to 'stay the distance' benefits everyone; from the students themselves to younger ones or newcomers watching the talent of older, more experienced students; as well as staff and the overall reputation of the academy.

Jennifer Pando, Principal at Stagecoach Solihull explains the impact of working with a group over time on student relationships at Stagecoach Solihull where she is Principal:
'Over the years they actually become 'a company' – the friendships they make extend over years. Working together so closely means they grow to trust and nurture one another as an ensemble , and they achieve even more together, which is wonderful to see.'
Jennifer continues by explaining the impact on the range of acting and musical theatre material you can develop when students return to the school year-on-year:
'If you retain as many students as you possibly can, you can devise more challenging work because their skills are so much more developed and they're more in tune with one another. When the standard becomes so high, those experienced students pull the quality of everyone else up.'
Anna McNamara, Principal at The Guildford Theatre School agrees, explaining:
'Consistency and sustained activity are essential to cognitive development. The longer they stay with us, the more successful the learning and teaching impact.'
Key strategies to engage students over time
Provide and celebrate progress milestones
If students feel their progress is tangible over time, they're more likely to show dedication to their lessons and stay in performing arts colleges. This can be encouraged by strategies such as:
Moving students up through classes and levels (tied to their age and ability)
Rewarding milestones with certificates, such as one year or two years at your musical theatre school.
Having a specialised group for singing,dancing or acting which students can aspire to be invited to join, additional to their wider studies.
Trying a broader range of styles and genres, along with more challenging material which only comes with experience and maturity.
Annual reports from staff outlining student successes as well as targets which students can then begin working towards next term.
Brenda Whitehead, Principal of Big Red Curtain Performing Arts, runs an annual event dedicated to celebrating students' achievements from over the course of the year. In the summer term they hold their annual presentation of awards where 300-350 of their students, friends and family culminate at a local venue for an afternoon of performances and awards.
Brenda says for everyone in attendance, this is an opportunity to reflect, reward and shine a light on the hard work of students over the past 12 months:
'This year's theme was the roaring 20s and the event took place in the art deco ballroom of a local hotel built in the 1920s. The performances of musical theatre and drama for family and friends was the first in nearly two years, so the afternoon gave the students a much needed lift.'
Connect students with professional experiences
Receiving insights into work in a real-life professional performance venue and with adults who work in performing arts roles offers great inspiration for students – especially in reiterating the importance of having exposure to a wide range of skills. Young people who are 'triple threat' performers, or who have working knowledge of both front and backstage roles are more likely to maintain their interest over time. If they can see explicitly the skills necessary to secure professional roles, they're far more likely to dedicate themselves to their performing arts education over longer periods of time.
Students at the Shelley Lowry School of Speech and Drama get involved in every aspect of putting on a professional performance in a theatre, from devising the script to running technical rehearsals. This means they also get to see how a professional theatre works - such as Health & Safety during the technical rehearsal. Shelley Lowry, School Principal and Founder, explains:
'This is so important for our students as they learn how to develop character, the importance of physicality, working in a team and adhering to schedules and timelines. Plus the thrill of performing live theatre and the audience reaction cannot be replicated!'
At Stagecoach Solihull, Jennifer Pando describes how they hold a whole term of workshops where students can meet industry professionals who show them what it's really like to work in real West End musicals:
'We run Q&A sessions at the end of these workshops where young people can ask things like 'What's the audition process for getting into Frozen the musical?' and 'What does an average week look like in the Hairspray musical?'
Run a casting agency
In addition to giving students a taste of performing with professionals in a professional theatre, some academies also run their own casting agencies for those who want to take their work to the next level, or are considering pursuing a career in the performing arts.
Big Red Curtain Performing Arts runs a casting agency which is exclusive for their students, and they have managed to secure paid work for students, including projects with: BBC, ITV, Channel 4 and Film 4 Productions and TV commercials, as well as paid roles for live performances. They include this service for free, maintaining their mission to 'seek to find performance opportunities and work experience in the performing arts industry for all of our students'. Having a service, or close ties to casting agents, can really help young people see that what they are doing and has the potential to lead to genuine professional opportunities, therefore helping retain students over time.
Support students on an individual level
Students are far more likely to stay if they feel supported, and know that their individual needs and career aspirations will be respected and catered for. Shelley Lowry explains that one of the strategies they use to achieve student retention is an individualised learning journey, developed over time with the student to enable personalised, targeted singing, dancing and acting training:
'Student retention is vital. We apply a bespoke mentoring strategy to each student; helping them to develop their individual performance or communication skills to their fullest potential. This takes time and the best results are achieved when a student attends our classes for three academic years or more.'
Shelley says it is this supportive approach that contributes to students attending for longer:
'Most students stay with us for many years. They stay because we care about their individual needs, providing a positive and nurturing environment where every student feels supported and welcome. Students feel safe to express themselves without fear of judgement or reprisal. Their individual performance styles and skills are celebrated and developed.'
Not only are performing arts academies places for students to develop their confidence and experiment with expression in a safe environment, but for students with additional needs or who might struggle for other reasons at school, it provides a place of tangible and meaningful progress.
Students, no matter their abilities or needs, are encouraged through adapted materials and strategies, so that progress is within everyone's grasp. Making this messaging clear to students and parents from the start – that all learners are welcome and that provision is made for everyone – helps musical theatre academies attract and retain a broad range of students.
Shelley stresses that it is also important to acknowledge when students are struggling with external pressures such as GCSE and A Level exams - and to adopt a flexible approach where possible:
'Understandably students stop attending when they have a heavy GCSE or A Level timetable. I offer the students the opportunity to 'pay as you go' if they are sitting GCSE or A Levels in the months of May and June only.'
Give students ownership and responsibility
If students genuinely feel like they can make their own mark on musical theatre productions, they are more likely to be fully invested in it. They'll not only be excited to work towards their musical theatre show during the year, but they will also look forward with anticipation to next year's production. Ownership goes hand in hand with responsibility, so it stands to reason that the more ownership students have of a performance, the more there is at stake and therefore the more effort they will put in.
One student we spoke to, Olivia Macnab – from York Theatre Royal Youth Theatre – explained how the school formalises the decision-making process with students through a forum which meets twice a term to help adult leaders make decisions:
'This is an utterly invaluable opportunity, and one I would encourage every Youth Theatre to consider. Our regular roles include planning the trips for each group, and planning and helping run the Big Yorkshire Youth Theatre Festival. We are also on hand to assist at other large events; for example, we made and gave a presentation on the Youth Theatre for a Minister and other VIPs who attended an arts evening at the theatre.'
These options for leadership have helped Olivia to maintain a connection with the group in a lighter touch way during times when it has been difficult for her to attend weekly sessions, such as during exam season. She was able to develop her skills in directing, taking an active role without the commitment of being a full-time cast member. Instead of having to leave altogether, students can take on mentoring or back-stage responsibilities to fit around their wider pressures.
Brenda says that giving everyone a say in what they create is crucial to student retention and that this approach has even saved the musical theatre academy from losing them:
'Students have considered leaving for various reasons - money, or wanting to try a new hobby - but then have changed their minds because they have been involved in an inspiring piece of work that has triggered their imagination. Every term we sit and plan the term's work and find a theme we would all like to work on'
Create age appropriate roles and responsibilities
Mixing age groups and ability levels within projects can both inspire confidence in older, more advanced pupils and help younger students learn and feel inspired and engaged.
Brenda explains how encouraging ties between students forms close bonds and enhances the experience and performance for everyone taking part:
'We actively encourage our more advanced students to work with the younger ones to enable them to pass on their experience and knowledge and this develops a very special bond. I believe that this is perhaps one of the most important things that the younger students learn - to work together, regardless of age and ability and to feel involved in something on a much larger scale.'
Older students can really benefit from taking on leadership roles and practise using a variety of skills to help out in different ways.
Rosemarie Partridge, Principal at Theatrix, finds a peer-to-peer approach when it comes to creative direction and expression helps students flex different skills and build confidence and ownership:
'We encourage our older students to help backstage on our musical theatre productions, and to help with the younger students when they can. We also give them opportunities to direct each other's work when appropriate.'
Hannah Potter, Manager at Jigsaw Brockley, also reiterates the importance of students taking on leadership roles within the fabric of the musical theatre school:
'For our older students, we will often offer them assistant work, where they support the teachers in preparing the students for their performances, and even the opportunity to cover teaching - when they are at the legal age to do so.'
YOUR LEARNING COMMUNITY
How to involve the whole learning community
Introduction
Your retention strategy needs to consider all stakeholders - students, parents and teachers. Make retaining and delighting your students - and their parents - a focus, and recruitment will follow. If students enjoy and show growth through your classes, parents will identify this as a positive effect of their child attending your school. Siblings and friends of students are far more likely to join your centre if both students and parents can sing the praises of your approach.
Word of mouth is the best advertising you can get, and this comes down to keeping your existing customers happy so they do the hard work of promotion for you, becoming advocates of your musical theatre school.
Get creative when engaging parents
There is no one silver bullet to parental engagement - the way you communicate with and engage parents will depend on what resonates with them, as Hannah Potter, Manager at Jigsaw Brockley explains:
'My parents engage more with the website and newsletter than social media. But all of these tools help to keep my parents in touch with what is happening at the school and what we offer! It also is a way of them being able to interact with the network as a whole.'
Meanwhile, Anna McNamara, Principal at The Guildford Theatre School explains there are three factors that lead to positive parent relationships and engagement:
'A strong and enabled teaching team is key to this, alongside effective and efficient communication from school administration. Clear and visible leadership is the third strand which I believe is key. All of these factors build both an inclusive and student-centred learning and teaching experience, as well as individualised customer service.'
Diversify your offer
As well as keeping older students engaged by listening to their feedback, it's important to consider how accessible your offer is for families with children of all ages. Widening your offer to younger students as well as adults is a great way to keep the whole family engaged; drama schools and musical theatre is for everyone, even if they don't want to pursue it for a career.
Big Red Curtain Performing Arts offers classes from early years to post-18 year olds, as well as a summer option for all the family, as Brenda Whitehead, Principal explains:
'We find that our summer workshops - where we produce a short musical in a week - enable childcare, but also encourage young people to get involved in the arts in a hands-on, creative way.'
At Stagecoach Solihull, Principal Jennifer Pando diversified their offer during the pandemic, with excellent results and the workshop they ran at this time has impacted the students positively, as well as creating lasting links as the world 'gets back to normal':
''We had to spend months and months delivering drama online through the pandemic, yet we had newcomers and actually kept 94% of our students. But we had to 'dangle a carrot' so we had lots of online workshops where students met musical theatre professionals – since they were all out of work too.
'We met the musical director and choreographer of Hamilton, someone from Mamma Mia! and Mary Poppins, the choreographer for Wicked, a performer from Six: the Musical. Now we can get back to the theatre, we encourage students to look for these people's job roles and names in the programme.'
Promote your students within the local community
Holding an annual showcase at a local theatre is a great way to boost your presence and make yourself known to the local community, as well as adding cachet and a sense of occasion to the event for parents and students. Anna McNamara says:
'An annual show in a professional venue, one for acting and one for musical theatre and dance, showcases the students' work. It also sets us apart from other schools.'
Likewise, Rosemarie Partridge, Principal at Theatrix has impressive yearly performance traditions at her performing arts school:
'We put on an annual showcase in a 240-seat auditorium theatre for four performances where every child has a chance to show their work.'
At Stagecoach Solihull, they take every opportunity to get students used to performing live – from end-of-term set pieces to open mic and live lounge events, plus outdoor performances for the public, as Jennifer Pando explains:
'We do a lot of open-air theatre – we've performed in The Dell at The RSC, and there's also a public location in the centre of Solihull. It has a grassy bank and flat area at the bottom; it's perfect as an outdoor theatre. We used it to showcase our singing and dancing pieces and it was absolutely rammed with people. It's a great way to give outsiders an idea of what we do, and performing outside is very different, so it gives students a new set of skills.'
Showcasing student performances and progress on social media, and via other digital platforms can really buoy the confidence of students, according to Shelley Lowry, Founder of School of Speech and Drama:
'We have a presence on Facebook and Instagram, and a website. We like to update our followers with any success the young people have had, or what they are currently involved in.'
Students and their parents are motivated to share the content on their own channels and, aside from being full of pride at their achievements, they actually become brand ambassadors for your centre, helping to spread the word in the most positive way.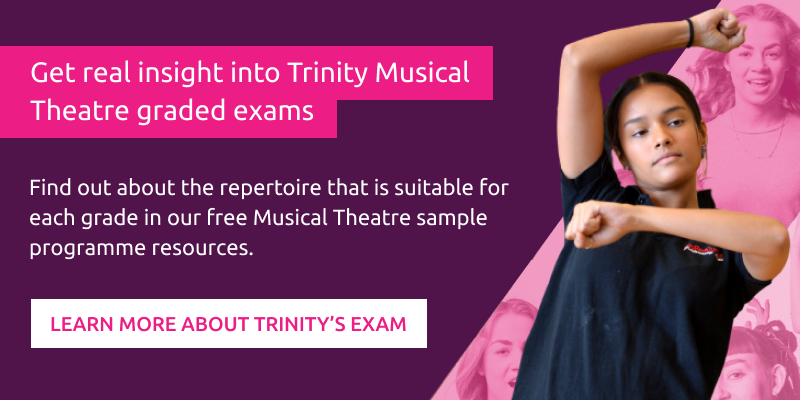 GRADED EXAMS
How graded exams help student retention
Introduction
Graded drama exams take the form of live performances in front of an examiner and there are numerous wider benefits to offering this kind of exam at your academy. Enjoyable experiences in themselves, the exams help to add value, give parents and students something tangible to show for their investment, as well as supporting students with progression to further study and equipping them with transferable life skills.
Plus, preparing for an exam doesn't have to mean labouring away at a limited number of set pieces for months on end, risking engagement from students. Depending on the exam board and specifications, there are options to prepare well-known musical theatre songs and have a free choice of texts.
As Brenda Whitehead, Principal of Big Red Curtain Performing Arts explains:
'Ownership of their work is so important and the return to face-to-face exams with a superb Trinity examiner brought so many tears of happiness, relief, joy and a determination to continue their academic and performance journey once again. The results were fantastic and in the words of one of our long-standing students: "We are back".'
Show value by demonstrating progress
Demonstrating progress is a key factor to consider as part of your retention strategy, as this will help parents to see the value of your offer - and to keep paying the fees. For students, exam success is a great motivator and the satisfaction and sense of achievement they will get by progressing through the grades will help them to see their future at your musical theatre academy.
Exams aren't just a way for talented students to gain recognition for their skills, either; they can be a tool for instilling self-confidence and self-worth. If you're looking to inspire confidence in your students through exams, you may want to look into pair and group exams options to help give students the structure and support of peers to gain their qualification.
Benefits of pair and group exams include:
Recognition for all students, instead of only those who are confident enough to take solo exams.
Creative, stage management, and technical teams can be entered for assessment as well as the performers so that every student's achievements, on and off the stage, will be recognised and rewarded.
Experience of working as part of an ensemble for students, mimicking musical theatre in a professional context.
The ability to explore diverse material; as the group forges trusting bonds together over time, they can be further stretched and challenged.
Whole-group teaching so everyone in the class is striving towards the same objective and teachers can really immerse learners into one project.
Jennifer Pando, Principal at Stagecoach Solihull explains why the group exams are ideal for some of her students:
'I like group musical theatre exams because I think they are great for the children who aren't necessarily very forward or are a little bit shy. They will really rise to the challenge because they want to do well for their team; it makes them accountable and show commitment to others, just as they would have to in a professional setting.'
Boost drama school applications
If you have students who are considering going on to further study in the performing arts, then encouraging them to take graded exams will help with the logical progression from your performing arts academy to further education.
Brenda Whitehead says:
'We encourage students to take Trinity College London examinations to ensure that their development and UCAS points can help them to further succeed in the arts if they choose to go on to a Conservatoire, as many of our students have done in the past.'
One student we spoke to, Cameron Vargesson, says that getting used to performing in an exam setting helped him during auditions for drama school; a lot of the skills are the same:
'Preparing for the exams certainly helped me when it came to preparing for musical theatre auditions, because it's a similar skill set when it comes to knowing the context behind songs in musicals, and knowing why they're being sung. It's helped me with my musical ability as well. Doing it in front of an external panel for exams has also helped get me used to performing for other people.'
The UCAS points attached to higher grade exams can in fact be invaluable to all students applying to higher education institutions, not just those aiming for performing arts courses. Shelley Lowry explains:

'The UCAS points in particular are so valuable. One of our students recently won a place at Liverpool John Moores University to study teaching special needs children. At his interview, they said, because of the UCAS points he had accrued with the Trinity exams and the experience that he had with performing and speech and drama and musical theatre, they were happy to offer him a two Cs for a course that he would normally have had to have got maybe an A and two Bs to get into.'
Gain valuable transferable life skills
Entering students for graded exams will give them an edge when it comes to their grasp of performance skills. Even if they are not planning to pursue a career in performance, these are 21st century skills which will stand them in good stead regardless of the path they choose. Rosemarie Partridge, Principal at Theatrix, makes transferable skills a focus by inviting professionals beyond the performance industry to come and speak to her students:
'We have just started inviting professionals from related industries to connect our older students with transferable skills. We hope to keep up the older students' interest through this channel.'
Musical theatre exams develop a range of transferable skills including communication skills such as listening and responding, leadership and teamwork skills, as well as creative problem solving, time management and research skills.
Helping students – and parents – appreciate the way drama creates a well-rounded skill set for the future is vital. Drama schools are about personal development; they encourage social and emotional understanding – essential skills for success in wider studies, future pursuits and life in general.
Whatever pathways our young people take in the future, they need to understand that drama classes will only enhance their growth and give them a competitive edge when it comes to important moments in their lives, such as auditions, interviews and exams. Shelley Lowry, Founder of The Shelley Lowry School of Speech and Drama sees this in action all the time:
'Those individuals who have studied communication and performance skills have a distinct advantage over those who have not. They are inclined to be more confident in interview and presentation situations.
Several of my students apply to continue their performing arts training with third level institutions every year, however, most apply the skills they acquired through our classes in other walks of life. Past pupils have gone on to work in film/radio/television, as doctors, solicitors, teachers and many other professions.'