You must pass a Secure English Language Test (SELT) in at least CEFR level B1 in Reading, Writing, Speaking and Listening for a:
Tier 2 (General) visa
Tier 4 (General) Student visa (although UKVI requires a B1 test, some institutions require B2 — please check with your sponsor)
Trinity's ISE I exam = CEFR B1.
ISE I
Test of 4 skills: reading, writing, speaking and listening
Test taken in 1 day
Certificate usually sent within 21 days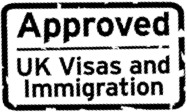 Prepare for your test
There are two ISE I exam modules - Reading & Writing and Speaking & Listening.
The Reading & Writing part of the test is 2 hours long

The Speaking & Listening part of the test is 18 minutes long
For a Secure English Language Test (SELT), both modules are taken on the same day at a UK Trinity SELT Centre. Candidates must pass both modules for an ISE I (B1) qualification.
Visit Prepare for your ISE I test to find guidance and preparation activities to help you understand and practise for both modules.
Prepare for your test Find a preparation course Special needs requests
Computer-based test option
Candidates take the Reading & Writing part of ISE I (B1) on a computer at Hammersmith - London West. Find out more.
Take with you to the test
You must take proof of identity (ID) to the SELT test centre. Please read Trinity's SELT Centre Candidate ID policy.
Remember to download and complete a Topic Form to take to the exam for discussion with the examiner.
Further information
What do CEFR, SELT and GESE mean?
CEFR = Common European Framework of Reference for Languages
SELT = Secure English Language Test
ISE = Integrated Skills in English