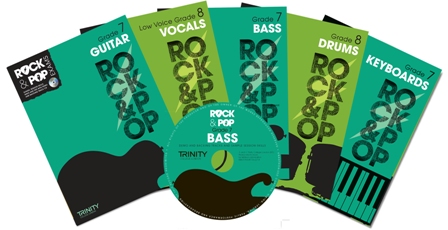 The eagerly anticipated Rock & Pop exams and song books for Grade 7 and 8 were launched at Music China in Shanghai. These books complete the full line-up of graded exam song books, which includes real music from the classics to recent releases.
The books were launched at a drinks reception at the end of the first day of Music China on 11 October, which included live performances of music from the Rock & Pop syllabus. Trinity staff were also on hand to answer any questions about Trinity Rock & Pop, the syllabus and exams.
The Rock & Pop exams are based on Trinity's internationally recognised music exam structure, which puts performance and creativity at the heart of the exam. Students will play real music by real artists they know and love, and can opt to include one of their own original songs. They will choose to complete one Session skills assessment in their exam – either Improvising or Playback. Songs have been carefully selected to demonstrate important skills and techniques, and the song lists include music from Radiohead to Rihanna.


The new Grade 7 and Grade 8 books feature songs from Dream Theater, Primus, Biffy Clyro, Iron Maiden, Jamie Cullum, Evanescence, Justin Timberlake, Bruno Mars, Beyoncé and many more. They are available for bass, drums, guitar, keyboards and vocals, and include useful hints and tips, performance notes and guidance on the exams as well as a CD with backing and demo tracks.
Francesca Christmas, Head of Academic Governance for Music at Trinity, said,' The Rock & Pop books are not only exam books, but fantastic teaching and learning resources. As well as having the sheet music and demo CDs for each of the tracks, there are plenty of tools to help with practicing and performing – both for solo musicians and bands. It is something that Rock & Pop musicians of any age and stage can enjoy'.
Entry is open for all Rock & Pop exams and the full range of books are available to order now. To be kept up to date with news about the Rock & Pop syllabus and related events follow Trinity on Facebook at www.trinityrock.com/facebook and on Twitter @Trinity_Rock.