Trinity College London sponsors ESOL awards
Trinity College London was the proud sponsor of the ESOL awards at the Adult Learners' Week ceremonies in London and Manchester on 17 May. The event was attended by award winners, their families, MPs, nominators and sponsors.
Adult Learners' Week celebrates, engages and inspires adult learning recognising the achievements of outstanding individuals.
Meet our award winners...
Lluvia Ceh Hernandez
Learning through ESOL Award Winner - London
In 2007, Lluvia moved to the UK and was determined to learn English so that she could understand her children's education, communicate with their teachers and interact with the community as a whole.
Lluvia found Trinity Skills for Life exams motivating opportunities and in preparation for the exams she strived and progressed with her writing skills which were unmatched by other students. Lluvia encouraged classmates to practise English outside the classroom. She now shares her English knowledge doing voluntary work as a Teacher Assistant for pre-entry ESOL learners.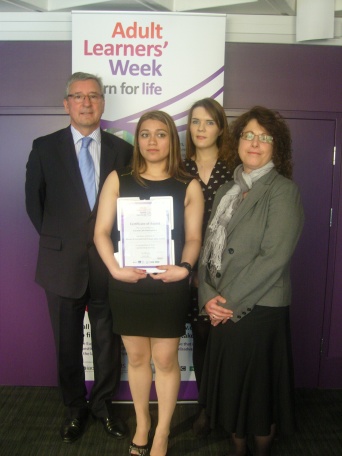 Kristine Micheal
Learning through ESOL Award Winner - South-East
In 2009 Kristine and her family arrived in the UK with little knowledge of the English language. With limited experience of learning, Kristine progressed from Entry 2 to Entry 3 and then onto level 1 ESOL within a period of three years, passing every exam first time. The English language was challenging for her but she demonstrated true determination and perseverance.
Pauline Fletcher
Championing ESOL Award Winner – North West
A fabulous evening ceremony at Manchester Museum, a historic and evocative venue attended by nominators, sponsors, winners and other guests. Trinity was delighted to present a "Championing ESOL" Award to Pauline Fletcher from Wai Yin Chinese Women 's Society. She has made an extraordinary contribution to her learners' well being and confidence in English. In fact this was further acknowledged by her learners themselves at a party held at the centre the next day.