Musical Theatre
Revisions to Trinity's Musical Theatre and Performance Arts Grade and Certificate syllabus have been made. For more information about the revisions please read our news release.
Musical Theatre is one of the fastest growing areas of interest within the dramatic arts. The Trinity Musical Theatre Syllabus recognises this and supports development in musical theatre training internationally. The syllabus integrates well with other programmes and examinations in performance.
Grade examinations in Musical Theatre are available for solo, pair, and group work. The three disciplines that are examined in these syllabuses are singing, acting, and movement but, as is the nature of musical theatre, candidates need to demonstrate their ability in these skills through integrative performance. At all levels the syllabus offers a wide choice for selection of performance material which may include material from the candidate's own country or culture.
Please click here for Guidance Notes on the Musical Theatre and Performance Arts Syllabus.
Please click here for Frequently Asked Questons about the Musical Theatre and Performance Arts syllabus
The Musical Theatre Syllabus is available for all ages and levels from Grade 1 to Grade 8 and Diplomas (see Musical Theatre Diplomas). Opportunities for young learners under the age of seven are provided by the Young Performers' Certificate option (see under Performance Certificates).
For more detail on each syllabus please follow the links on the left.
Musical Theatre books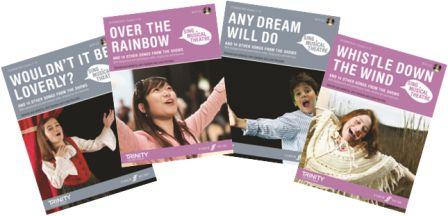 Develop your singing and musical theatre skills with this superb range of classic and contemporary pieces. These books include backing track CD and are ideal for singing and musical theatre candidates – or anyone looking for a new, practical compilation of repertoire.