Malaysia
Trinity music exams first took place in Malaysia as early as 1921. However, due to the second world war, the exams were interrupted and only in the 1960s did Trinity return to newly-independent Malaysia. Language and drama & speech examinations were then introduced in 1980. Now, as Trinity College London, we examine over 10,000 candidates each year throughout the country.
A host of activities and events, including awards and concerts, professional support seminars and workshops, complement the examinations, which are held twice a year for music and drama & speech, and once a year for ESOL.
Currently, Trinity music exams are offered in over 35 public centres throughout Malaysia. We are the No. 1 choice for music diplomas and enjoy an increasing support for our suite of graded and certificate exams. All our qualifications are recognised by local universities and institutions, and our diploma qualifications can be used in lieu of Malaysia STPM for music degree courses.
In 2011, Trinity celebrated 90 years of assessments in Malaysia and hopes to work further with the local teacher communities to benefit performing arts education. Celebratory events included a special 90th anniversary concert featuring performances by Trinity and Guildhall alumni for music and drama & speech.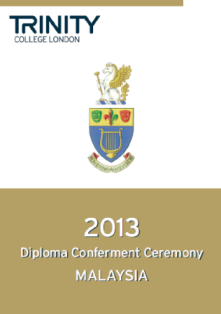 Our Diploma Conferment Ceremony was held on Monday 16 September at the Grand Dorsett Subang Hotel. Arguably the most important event in the Trinity Malaysia, we welcomed over 600 diploma holders and guests to this event. Please click here for the photos of the Ceremony.