Archivo de noticias | News archive
ACLES tenth conference sponsored by Trinity
29 June 2017
Trinity College London is sponsoring the tenth Conference of the Association of Language Centres in Higher Education (ACLES), organised this year by the Language Centre of Vigo University, from June 29 to July 1 2017.
The conference is focused on 'The role of Language Centres in the internationalization strategy of universities', and will include a series of useful workshops, round tables and presentations about language teaching and assessment, covering the following areas:
Languages and internationalisation: strategies and policies
Specific training for university teachers on EMI
Models of Higher Education Language Centre management
Assessment and accreditation of linguistic competence
Standardisation of oral and written production assessment
Best practice in exam piloting
Language tests for exchange students
Collaboration between centres on accreditation
Blended teaching
Further information:
http://acles10.webs.uvigo.es/en
https://www.facebook.com/cdl.uvigo
https://www.facebook.com/TCLSpainPortugal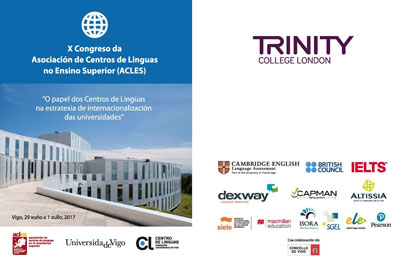 Agreement between FECEI and Trinity
23 June 2017

Trinity College London and FECEI (Spanish Federation of Language Schools) signed a Cooperation Agreement in Madrid on June 23 2017 to develop joint actions within the education sector and, more specifically, regarding the teaching, learning and assessment of English as a Foreign Language (EFL).

The signing ceremony was in the presence of representatives from both institutions, and presided over by Mr Barry Lynam, Trinity National Consultant (Spain & Portugal) and Mr Aidan O'Toole, President of FECEI.
Further information:
https://www.facebook.com/FECEI.org
Trinity Spain: Becas ISE 2015/2016 para cursos de inglés en Reino Unido o Irlanda
1 junio 2016
Trinity confirma el resultado del sorteo de las 3 Becas ISE para realizar un curso de inglés en el Reino Unido o Irlanda durante el mes de julio de 2016.
Las becas se sortearon ante el Notario de Madrid Don José Luis Martínez-Gil Vich entre todos los candidatos matriculados en cualquier nivel completo de ISE Revisado a celebrar hasta el 30 de junio de 2016, según las condiciones establecidas, y los afortunados ganadores son los candidatos siguientes:
J.P.M.M. – ISE II: Centro de Lenguas Jesús Mendoza, Úbeda
M.J.C.V. – ISE II: Centro Liffey Group, Ciudad Real
J.V.L. – ISE I: Centro Aula Abierta Huelva, Huelva
Trinity Spain: 2015/2016 ISE Scholarships for English courses in UK or Ireland
1 June 2016
Trinity confirms the result of the raffle for the award of 3 ISE Scholarships to take an English course in the UK or Ireland in July 2016.
The scholarships were raffled in the presence of Madrid Notary Mr José Luis Martínez-Gil Vich amongst all candidates entered for any complete level of Revised ISE to be taken until 30 June 2016, as per the established conditions, and the fortunate winners are the following candidates:
J.P.M.M. – ISE II: Centro de Lenguas Jesús Mendoza, Úbeda
M.J.C.V. – ISE II: Centro Liffey Group, Ciudad Real
J.V.L. – ISE I: Centro Aula Abierta Huelva, Huelva