Classical Guitar 2020-2023

Classical Guitar Syllabus 2020-2023 now available
Valid from 1 January 2020 to 31 December 2023
---
From autumn 2019 there are two exciting new updates to Guitar:
Classical Guitar 2020-2023 - available from 3 October 2019.
Coming November 2019, a new Acoustic Guitar syllabus reinvents the popular Plectrum Guitar syllabus, keeping it vital and relevant to today's guitarist by giving teachers and learners the flexibility to develop fingerstyle and plectrum playing.
For Classical or Acoustic/Plectrum guitarists, there is our usual one-year overlap with the current
Classical and Plectrum Guitar syllabus
(2016-2019) during which candidates can select pieces and technical work from either the old syllabus or the new syllabus, but not both.
Styles and duets
Encompassing a range of inspiring repertoire from the Renaissance to the present day, the syllabus includes pieces published for the first time and more music by female composers. The duets option is now available up to Grade 5.

Books
New graded books for Initial to Grade 8 feature a wide range of repertoire, while expanded alternative piece lists include options from Trinity's Raise the Bar and Performance Edition series of publications.

Techniques
Technical work includes specially composed exercises for each grade, covering the technique required specifically by guitarists, ensuring that all learners put scales and arpeggios into the performance context.

Benefit from industry expertise
The syllabus and supporting books have been created in consultation with leading classical guitar specialists. You can access videos and articles produced with professionals to support teaching and learning at www.trinitycollege.com/guitar-resources. Join us online and on social media to find out when new resources are available.

Music Resources

Support and inspiration from leading guitarists and teachers - with advice on styles and techniques - is available at our Music Resources site.



Visit our Music Resources site Download sample booklet

Video: Grade 3 (Duet) – The Coasts of High Barbary

Embrace your inner pirate with this boisterous sea shanty from Somerset, exploring the higher positions on the fretboard. Helen Sanderson's arrangement is in G minor – a less common key for guitarists - and the accented notes of the accompaniment highlight the spirited and energetic character.

Performed by Jens Franke and Jørgen Skogmo.
Register your interest
Stay up to date with news about the new Classical Guitar syllabus, publications, resources and professional development programmes, as well as giveaways and offers.


Register your interest
Enter for a Classical Guitar exam
There are two ways to book an exam:
Download an entry form here and send it with the full fee to your local representative, or


Book online using Trinity's new music booking service - this is currently available at selected UK centres only. The service permits booking and payment online, and the ability to choose a date at the point of booking.
Please note: you should read the syllabus requirements carefully before your exam. If you do not meet all the relevant requirements, the examiner may refer your exam result to Trinity's London office for review and marks may be deducted. Please see Information and Regulations and Syllabus infringements for more information.
Supporting Classical Guitar publications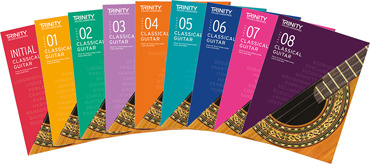 The following books supporting the syllabus are now available:
Visit our online shop
The Guitar Syllabus 2016-2019 and overlap arrangements
There will be a one-year overlap between syllabuses during which time candidates may offer pieces and technical work requirements from either the 2016-2019 or 2020-2023 syllabus, but not a mixture of both. There are no changes to the supporting tests.
Free downloadable guidance for Improvisation and Musical Knowledge can be found on our supporting tests page.
Further information
Full details of entry procedures and exam regulations can be found in our Information & Regulations booklet.
Trinity Talent Class of 2019
For more information see www.voicemag.uk/trinity-talent