Drama and speech publications
Within the specific requirements of each syllabus, the choice of repertoire and performance pieces is entirely the candidate's own, therefore there are no required texts in order to enter Trinity drama exams.
However, Trinity publishes a free online anthology of pieces suitable for using in exams.
There are a number of copies of books of the winning plays in our International Playwriting Competitions from 2010-2014 available. Please email drama@trinitycollege.com if you would like a copy sent to you.
The following publications are available to buy:


Musical Theatre books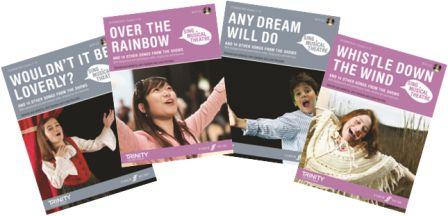 Develop your singing and musical theatre skills with this superb range of classic and contemporary pieces. These books include backing track CD and are ideal for singing and musical theatre candidates – or anyone looking for a new, practical compilation of repertoire.


Dramatic Lines
A number of previous Trinity publications, which do not specifically relate to current syllabuses, are also still available from Dramatic Lines (www.dramaticlines.co.uk). The books are written by respected experts in their fields.
The range of titles is as follows: