Trumpeter Matthew Payne plays across a range of musical styles, and has worked with lots of notable musicians such as the Spice Girls and Rick Astley. Matt has recorded for film and TV for the likes of Fox Studios, the BBC and Channel 4, and is currently touring with the musical 'Let's Hang On', playing the music of Frankie Valli & The Four Seasons.
To explore what the world of a professional brass player can look like, we asked Matt to tell us a bit about his career as a trumpeter.
Can you tell us a bit about your career to date?
I am a London-based trumpet player specialising in Commercial, Classical, Big Band, Musical Theatre and Latin music. I've played and recorded with an abundance of the world's favourite musicians including the Spice Girls, Rick Astley and Mcfly. I'm currently playing Lead Trumpet with the 'No Limit Street Band - London' as well as on the touring Frankie Valli and the Four Seasons show, 'Let's Hang On'.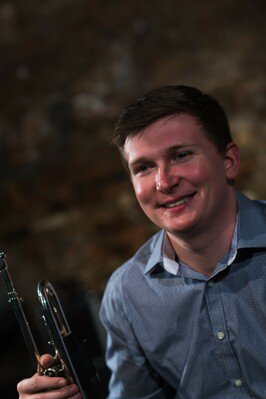 I've performed for the BBC's 'Holding Back the Years' programme featuring Ainsley Harriet, as part of 'Alex Mendham and his Orchestra' on Lead Trumpet, and I've also appeared on Channel 4's 'The Last Leg' as part of 'Thames Brass'.
I have held the position of 1st Trumpet with the London Musical Theatre Orchestra and have been a member of the National Youth Jazz Orchestra.
What first inspired you to learn the trumpet?
I was first inspired to play a musical instrument by my brother, who one day came home with a French horn he'd been given from school to try out. As I was a little jealous, I decided I too would like something to make a bit of noise with so decided that the trumpet would help me do this best!
What sort of education on the trumpet did you have?
I began learning the trumpet at school by having weekly lessons with the school's brass tutor. From there I progressed to playing in ensembles and orchestras at the Havering Music School where I stayed until I joined the Junior Department at Trinity Laban Conservatoire of Music and Dance. After a year of study on the Junior Programme I was awarded a place to study Trumpet Performance at degree level. Whilst at Trinity Laban I studied with some of the biggest names in the trumpet world including Andy Hendrie, Mike Lovatt, John Barclay and Thomas Hooten.
How did you first get into the industry as a professional, and what inspired you to turn learning into a career?
My first professional gig happened as one of my friends was working in a band where their lead trumpet had called in sick that morning and they needed a replacement quickly. My friend called me and asked if I was free, which I was, so I got myself down to the studio. It can be as simple as that.
Being able to make a career out of something that I first considered being a hobby is an absolute joy for me. The real turning point for me was when I realised that playing the trumpet means I'm not glued to an office chair or stuck in a 9-5 job. Sure, there are some late nights and early mornings, but I really can't imagine doing anything else for a career. I get to entertain and bring joy to people every day by playing music. Can't ask for more than that.
What have been your career highlights so far?
My career highlights so far have included working with Rick Astley on the film 'Walk like a Panther' for Fox Studios and working on screen for Agatha Christie's 'The Crooked House'.
What do you love most about what you do?
The thing I love most about what I do is that I get to inspire and entertain people for a living. Not everyone can say that they have fun at work, but for me every day is different. I work with some of the most talented and creative minds in the world and it's a real joy to be surrounded by these people and work and share stories with them.
You need to have a good ear. Good sense of time. Be easy to work with. Know your stuff. But most of all be humble!
What advice would you give someone learning the trumpet?
Be patient! You cannot expect to play like Allen Vizzutti overnight. It takes years of dedication to learn how to play an instrument. In my opinion, you can never stop learning how to get better at your instrument. Practice makes perfection!
What advice would you give someone looking to get into the industry as a professional?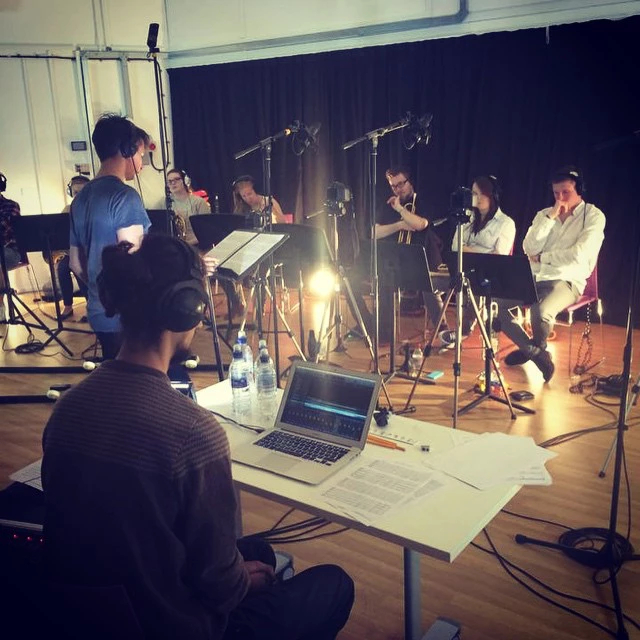 If you're looking to work in the music industry you must must must be able to get along with absolutely everyone. Nobody wants to work with anyone who's miserable, especially not in the music business. Word travels fast if you're hard to get on with.
In this business you are often told to take on everything you get asked to do. I would advise that you learn how to say 'no' to things you don't have time to fit in. There is nothing worse than agreeing to something and then not being prepared to do the job well because you were too busy to fit in the practice time required. People remember those who do the job well, but they never forget those who completely write something off. You must be careful!
What are you currently involved with?
At the moment I'm working on a few projects including a new musical featuring the music of The Carpenters, as well as being a member of the 'No Limit Street Band'. During the summer I shall be working at some of the big festivals and events as well as playing at a few weddings and corporate occasions.