News
Young Composersí Competition Piano Syllabus 2021-2023
3 April 2019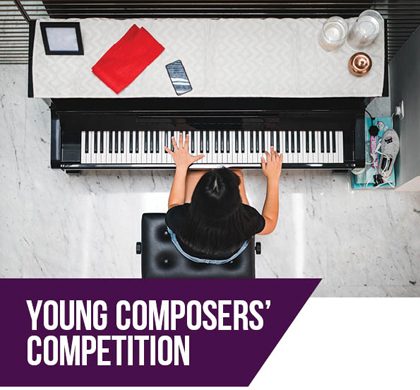 Note: the closing date for entering this competition has passed and entries are no longer being accepted. We are currently in the process of contacting all of those who entered and acknowledging their submissions.
Trinity College London is pleased to announce a call for unpublished original compositions for its Piano syllabus 2021-2023.
Trinity's aim is to encourage, motivate and champion composers early in their careers and in doing so, to celebrate the diversity and creativity of those that take Trinity exams.
About the competition
Full terms and conditions are available here.
Selection information
Trinity intends to select pieces that vary in difficulty and style, at levels ranging from Initial (pre-Grade 1) to Grade 8
Chosen works will be considered for inclusion in the graded exam books published by Trinity College London Press and distributed worldwide to support the 2021-2023 syllabus
Entry criteria
Pieces may be submitted by individual composers who are aged 30 or under on 15 May 2019. Proof of age will be requested from successful applicants
Repertoire requirements
A compositional brief, outlining requirements and durations for each grade, is available to download from this page
Compositions must be original, and must be the composer's own work. Arrangements will be considered, provided the piece arranged is in the public domain internationally
Compositions must not have been previously published
Instructions for submitting pieces
Composers (or their parent or guardian in the case of applicants under 18) should submit their compositions to Trinity using the online form available at www.smartsurvey.co.uk/s/youngcomposers2019 and complete the declaration
Compositions will be accepted from 3 April 2019 until 5.00pm GMT on 15 May 2019
Each composer may submit up to three pieces
Each piece must be supplied digitally in PDF format
Each piece must include the estimated duration on the last page
Supporting files such as audio/video recordings and written commentaries may also be included
Selection
The pieces will be judged by a panel of specialists at Trinity College London
The judges will select works based on adherence to the compositional brief, together with their originality, creativity and musical appeal
Next steps following submission
Trinity will endeavour to acknowledge all submissions via the email address provided, within 7 working days
Composers of selected works
Trinity will contact applicants whose work(s) it wishes to select on or shortly after 30 August 2019, using the contact details provided in the online submission form
Successful applicants will have their work(s) considered for inclusion in the Trinity piano graded exam syllabus from 2021-2023
Prizes will be awarded as follows:

Initial: £400
Grade 1: £400
Grade 2: £400
Grade 3: £500
Grade 4: £500
Grade 5: £500
Grade 6: £600
Grade 7: £600
Grade 8: £600

Competition winners will be asked to assign copyright in their works to Trinity College London Press.
Names of successful applicants will be published on Trinity's website and they may be used in promotion and publicity
Please direct any queries about this competition to music.administrator@trinitycollege.com