News
Playwriting competition winners travel from as far as Australia to see their plays performed at our festival
12 May 2014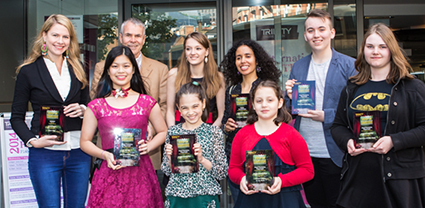 Our 2014 International Festival of Playwriting and Performance took place from 7-10 May at the St. James Theatre in London and featured the premiere performances of the winning plays in our 2013-14 International Playwriting Competition.
The winning playwrights were flown to London for the event, and were presented with their awards during the festival. Sally Hardy, winner of the category Plays for Teenage Audiences, travelled from Australia to see her emotional and topical play Gone Viral performed by a talented group of young local actors.
William Siegfried from Austria, winner of the category Plays for Young Performers, saw his play Virtual Enchantment performed by a cast of Year 5 students from Hermitage Primary School.
As well as the two winners, a number of the runners up came along to the festival to collect their awards, and all of the Most Promising Young Playwrights attended to have their plays brought to life through readings with actors from ArtsEd.
We also brought two plays from past competitions to the stage; Normal was performed by actors from Rose Bruford College of Theatre and Performance, and The Belinda Tree was performed by a young cast of actors from Putney Arts Theatre's Group 64.