News
Trinity College London's International Festival of Playwriting and Performance is a great success
20 January 2013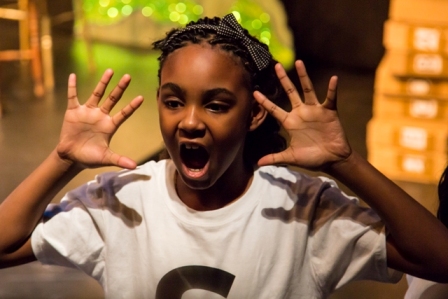 Trinity College London's first International Festival of Playwriting and Performance at the Unicorn Theatre, the UK's leading theatre for audiences aged 2 to 21, has been a sell-out.
The Festival marks the culmination of Trinity's International Playwriting Competition and debuts the performances of the two winning plays as well as readings from the Most Promising Young Playwrights and Runners Up, workshops, live music performances and an exhibition.
The Last Word by Christina Maiden from Durham, won in the category Plays for Young Performers. It is an inventive and clever play about a world where words start to mysteriously disappear. Set in the land of Dowsr, the play explores the chaos that follows the breakdown of the country's word-making machine as robbers, police and judges all struggle to make themselves understood. The play was performed by Year 4 students from Gallions Primary School who enjoyed the experience immensely.
A Concrete Jungle full of Wild Cars, by Mariama Ives-Moiba from London, won in the category Plays for Teenage Audiences. It is a gritty play about three teenagers who have fled war torn Sierra Leone to stay with their aunt in North London, while their parents search for the brother they have left behind. The play was performed by a cast of 11 members of WAC Performing Arts and Media College in Hampstead who tackled the play with maturity and enthusiasm.
John Gardyne, Head of Drama and Performance at Trinity College London, said, "We are delighted that Trinity's first ever International Festival of Playwriting and Performance has been so well received and a huge success. Trinity's International Playwriting Competition offers opportunities not just for the winning playwrights but for schools and youth theatre groups to get involved and experience the joy that comes from performing on the stage."
External Web Sites