News
WAC Performing Arts and Media College perform winning play to a full house
20 January 2013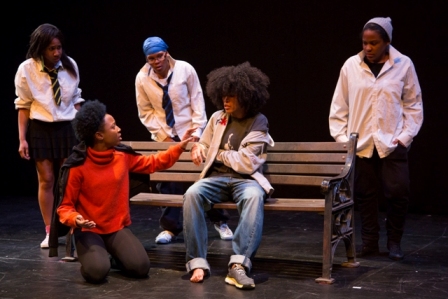 Eleven students from WAC Performing Arts and Media College in Hampstead have performed three shows over the weekend to rapturous audiences at Trinity College London's first International Festival of Playwriting and Performance at the Unicorn Theatre, the UK's leading theatre for audiences aged 2 to 21.
The cast of 11 students was chosen to perform the winning play, A Concrete Jungle full of Wild Cars, in Trinity's International Playwriting Competition in the category Plays for Teenage Audiences.
A Concrete Jungle full of Wild Cars, by Mariama Ives-Moiba from London, is a gritty play about three teenagers who have fled war torn Sierra Leone to stay with their aunt in North London, while their parents search for the brother they have left behind.
Although Mariama was brought up in the UK, her aunt and uncle live in Sierra Leone and have helped to rehabilitate child soldiers. She said, "As someone of Sierra Leone heritage this play is very important to me as it focuses on issues which affected my family members, and allowed me to show the positive and negative aspects of the culture clash between African, Caribbean and British people. I really felt the topic of child soldiers was something people in this country needed to know".
John Gardyne, Head of Drama and Performance at Trinity College London, said, "All the cast members, and Director Che Walker, have put in a tremendous amount of work to stage this extraordinary play that tackles a taboo subject. We are delighted that they have been able to have their efforts rewarded by such a wonderful turnout at their performances. Trinity's International Playwriting Competition offers opportunities not just for the winning playwrights but for schools and youth theatre groups to get involved and experience the joy that comes from performing on the stage."
External Web Sites