News
Grade 7 and 8 Rock & Pop books now available
12 September 2012
The eagerly anticipated Rock & Pop exams and song books for Grade 7 and 8 are available to order now through your local sheet music retailer and our online store.

These new books feature songs from Dream Theater, Primus, Biffy Clyro, Iron Maiden, Jamie Cullum, Evanescence, Justin Timberlake, Bruno Mars, Beyoncé and many more. They are available for bass, drums, guitar, keyboards and vocals, and include useful hints and tips, performance notes and guidance on the exams as well as a CD with backing and demo tracks.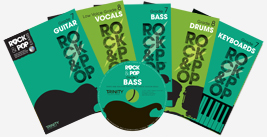 WHAT ARE PEOPLE SAYING ABOUT OUR ROCK & POP EXAMS?
| | |
| --- | --- |
| | The UK's Bass Guitar Magazine reviewed the Bass songbooks and praised the way that the exams provide the skills needed by working musicians. It said: '...the syllabus has clearly been put together by a team of musicians who know exactly what bassists really need to make a living... For example, the learner needs to study syncopation, picking accuracy and – get this! – the correct application of distortion. Now how cool is that?' |
| | India's The Hindu reported describing the exams as being 'tailor-made to showcase one's musical personality and to boost a performer's confidence'. |
| | At the other end of India, the Hindustan Times said that the students taking the Rock & Pop exams are 'the lucky ones' and that the exams are 'truly keeping with the very spirit of rock 'n' roll'. |
| | Australia's music magazine and website the Music.com.au described Trinity's Rock & Pop exams as 'an inspiring musical experience'. |
FIND OUT MORE ABOUT GRADE 6 ROCK & POP EXAMS