News
Grade 6 Rock & Pop Books now Available
20 August 2012
The full range of Grade 6 song books are now available from music retailers and our Trinity shop. These new books feature songs from The Smiths, David Bowie, The Noisettes, Iron Maiden, Muse, Fleetwood Mac, Reef, The Doors and many more.

Visit the Trinity shop to sample backing and demo tracks and check out sample sheet music.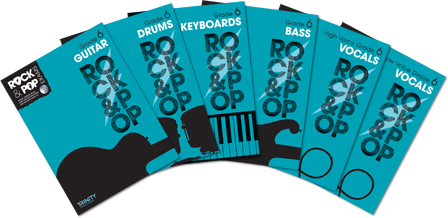 FIND OUT MORE ABOUT GRADE 6 ROCK & POP EXAMS
Grade 6 Bass exams
Songs include Ashes to Ashes by David Bowie, Won't get Fooled Again by The Who and Scratch your Name by The Noisettes. Find out more...
Grade 6 Drums exams


Songs include Funky Drummer by James Brown, Run to the Hills by Iron Maiden and Use Somebody by Kings of Leon. Find out more...
Grade 6 Guitar exams
Songs include Just by Radiohead, Place your Hands by Reef and This Charming Man by The Smiths. Find out more...
Grade 6 Keyboards exams
Songs include Green-eyed Lady by Sugarloaf, She's out of my Life by Michael Jackson and What'd I Say by Ray Charles. Find out more...
Grade 6 Vocals exams
Songs include Bleeding Love by Leona Lewis,You got the Love by Florence + The Machine and Wild Horses by Rolling Stones. Find out more...